Sad news, I still cannot believe this is happening for real – Yahoo site Explorer was closed down on 21st November. We all knew this will happen, but it is somehow shocking to see this, when you try to use your favourite back link checker tool: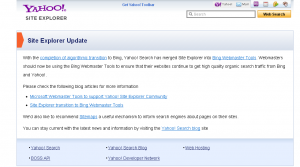 Now, there is nothing else left for us, instead to move on and search for an alternative good enough to meet our needs the way Yahoo Site Explorer did it. All developers and webmasters will always remember Yahoo Site Explorer for its detailed reports and ease of use.
So, let us move on!
I would definitely recommend Google Webmaster Tools, if you want to check your own site`s back links. Of course, first you need to verify it with Google.
In case you want to spy on your competitors again, SEOMoz has a not-bad alternative of Yahoo Site Explorer: Open Site Explorer
Blekko, which is another search engine, is also not so bad in providing SEO information, including inbound links:
Example: Type: http://website.com / /domainlinks
Backlinkwatch is also considered a pretty good tool in this respect. May be you should give it a try!
Anyway, Yahoo Site Explorer is gone, so we can just hope there are lots of even better tools to be developed in the future.